It's been over 6 months, since I have done anything to my hair. I was a regular with my hair appointments. Cut and color every 3 months. It was me time, it was THERAPY time! Who else has that type of relationship with their hairdresser!?
My very blonde balayage turned into a caramel faded dry mop. It takes a lot of work these days to keep it tamed.
Here are 5 products I've been loving for my hair below:
AVEDA shampure dry shampoo
This dry shampoo powder is amazing for dark roots. I've found that some of the other spray dry shampoos leave a crusty film on my hair and the white powder never does go away. I find myself trying to comb it out or rub it into my hair way too aggressively.
I love this one because it's a loose powder. You can control how much you put into your hair. It melts into your hair and actually gives some volume back to your day 2,3,4…or more hair!
Price: $32
BOLD UNIQ purple hair mask
This was such a great amazon find. It really pulls out the yellow out of myhair. It doesn't completely change the color, but it makes it look less brassy. The deep conditioning aspect of it alone is enough. I use this mask in the shower, and I come out with no tangles.
I would recommend for anyone who is looking for an affordable hair mask that is an all for one type deal. I will be continuing to use this when I go back to dark hair too!
Price: $29.95
IT'S A 10 HAIRCARE miracle leave in for blondes
This is the first "blonde" hair care product I bought when I first got my balayage a couple of years ago. I like it because it's easy. There's a tiny tint of purple, so it helps even out any brassiness.
I love using this right of of the shower. I work this product onto my ends and work my way up. It protects from heat styling and it conditions my hair while it dries. I also use it on my dry hair when I feel it needs a little moisture kick! It's a great all around leave in conditioner.
Price: $19.99
BATISTE dry shampoo divine dark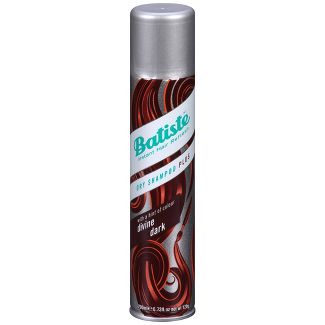 So, if you're anything like me you're getting your foundation in your hair when you are doing your makeup. Right at my widows peak I always get foundation in my hair. I reach for this to cover it up!
I love this dry shampoo because it always gives my hair a refresh and tints my hair color back to my dark roots. I love using this as a touch up when I'm on the go, so I don't have to work the product into my hair. It's very easy and you don't need much of it to give you the perfect oil free scalp.
Price: $7.29
OGX coconut milk anti-breakage serum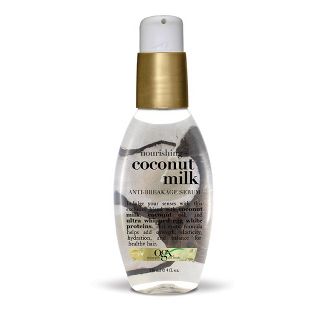 Those days when your hair is so dry and humid and you just need something to tame it, this is your friend.
A little goes a long way. Less than half a pump is all I need for my hair. I put on my roots when they're feeling like they need some lovin'. I notice that it really moisturizes and keeps my hair sleek. It works well with braids too!
Price: $6.79